Blogs | On board sport
Published on 08/09/2023 11:15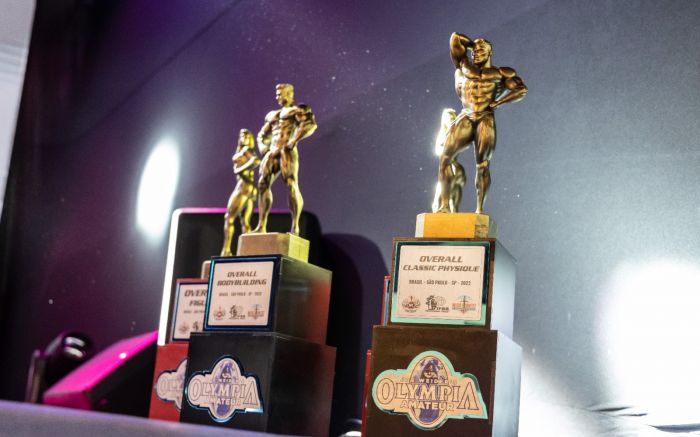 Countdown to one of the most prestigious events in world bodybuilding: Mr. Olympia Brasil 2023, organized by Savaget Promoções & Eventos, in partnership with the company Musclecontest, promoter of Mr. Olympia worldwide. From October 27 to 29, at the Pro Magno Centro de Eventos, in São Paulo (SP), amateur and professional athletes will compete to be part of the sport's elite.
This year, Mr. Olympia Brasil Expo promises to exceed all expectations, not only in terms of entertainment and news in sports nutrition and fitness fashion, reserved for the trade fair space, which takes place alongside the competition , but also with regard to the level of physical and mental preparation of the athletes.
More than just an event, Mr. Olympia Brasil is an opportunity for competitors to prove their excellence and progress in the professional world of bodybuilding. More than 1,300 competitors are expected in the main national bodybuilding categories: Classic Physique, Bodybuilding, Men's Physique, Well-being, Bikini, Figure and Women's Physique.
The prize up for grabs is nothing less than the chance to compete in the Mr. Olympia, considered by many to be the "World Cup" of bodybuilding, in addition to handing out 21 Pro Cards, which is a step toward becoming a professional bodybuilding. sport. Therefore, determination is an essential quality in the playbook of every athlete preparing for Mr. Olympia Brasil. And the arbitration of the dispute takes on an even greater responsibility.
"Mr. Olympia Brasil revealed great champions and athletes who have already won in the United States, in the women's categories. The event is a showcase to compete at Mr. Olympia, when the athlete turns professional, which will take place this year in November, in Orlando," says Kleber Caramello, Pro Judge NPC – National Physique Committee and IFBB Pro.
NPC, an acronym for "National Physique Committee", translated as "National Bodybuilding Committee", is an influential organization dedicated to bodybuilding and fitness in the United States.
Founded in 1982, the entity plays a fundamental role in the promotion and development of these sports in this country, particularly during very prestigious events, such as that of Mr. Olympia. NPC offers scoring and certification programs for bodybuilding and fitness athletes and judges. This helps maintain standards of quality and impartiality in competitions.
IFBB is the acronym for International Bodybuilding and Fitness Federation, which can be translated into Portuguese as International Bodybuilding and Fitness Federation. It is one of the leading international organizations dedicated to bodybuilding, fitness and other modalities related to body and health culture.
The IFBB was founded by Canadian Joe Weider and his brother Ben Weider in 1946, along with other bodybuilding leaders of the time. Since then, the organization has grown to become one of the most influential in the world of bodybuilding and fitness.
Calendar
Activities begin on Friday October 27 at 10 a.m. with the weigh-in of the athletes. Figure Men's Physique professionals will compete for the title on Saturday, October 28 between 1 p.m. and 5 p.m. The Classic Physique competition will take place on Sunday, October 29, at the same time.
The first to show up on Saturday will be the amateur representatives of Women's Physique, Bodybuilding, Figure and Classic Physique. All competitions start at 10 a.m. Amateurs in the Bikini Wellness and Men's Physique categories compete on Sunday, at the same time. On October 28, the Power Biceps Bench Press tournament will also take place and, on October 29, the Deadlift.
Fair and congress
Alongside the competition, the Mr. Olympia Brasil Expo is held, a fair that also grows every year, providing results for exhibitors.
During the 2022 edition, 50 brands of sports nutrition, equipment and fitness fashion were present, welcoming 2,248 commercial partners and retailers, accumulating R$50 million in business and 20,000 people on the days of the show.
"The Musclecontest Academy Conference is also part of the event, consisting of lectures by academics and researchers in the fields of sports nutrition and fitness. The idea is to transmit technical and scientific information to all interested parties who work in these segments," says Tamer El Guindy, CEO of Musclecontest.
Prominent names in sports and fitness such as Paulo Muzy, Leandro Twin and Deborah Moss share their knowledge with their followers. There will be 14 hours of immersion in the segment, at the Panamby Hotel, Av. Ordem e Progresso, 115, in Barra Funda.
Photo: Rodrigo Dod
Comments:
Only registered users can post comments.
To register click here.
If you are already registered, log in to comment.
"Typical zombieaholic. General twitter fanatic. Food fanatic. Gamer. Unapologetic analyst."